Creating digital content that resonates with Gen Z—those born between the late 1990s and the early 2010s—can be challenging. The first digital natives, members of Gen Z are a discerning bunch. They are also the most diverse generation in the US, making it unwise to design content for this group with a one-size-fits-all approach.
As members of this cohort enter the workforce, they wield tremendous buying power. They account for almost 40% of the world's consumer population, and have hundreds of billions of dollars to spend.
Understanding the Gen Z design aesthetic and its origins can help you create successful digital content for this group of young consumers. In my experience as a digital designer creating content for the gaming-console company NZXT, I find certain approaches resonate with this demographic.
Introduce a Relatable Character
Historically, ad campaigns were marked by direct calls to action that urged consumers to purchase based on a combination of price and product features. However, today's young adults prefer a more engaging approach to marketing, and research shows that our brains better connect to character-driven storytelling.
Brand characters work especially well on social media, where the vast majority of Gen Zers—also called Zoomers—spend their time.
At NZXT, I worked on social content using the character Pucci, a purple plush toy that gives customers a humorous connection with the company. Pucci was designed to echo NZXT's square-shaped magnetic organizer, Puck, and goes on adventures that are documented on social media to keep customers engaged with the brand. With this character, NZXT humanizes its products and connects to its Gen Z gamer audience. A bonus of creating a character like Pucci: It can be turned into merchandise for additional engagement—for instance, we held a fundraiser and gave Pucci merch to donors.
If you're working for a brand with an established character, you don't need to create a new one for social media; often, adapting an existing character for Gen Z can be successful. In 2020, the insurance giant Geico gave its iconic gecko character his own Instagram account. Though the character had been a staple of TV commercials for two decades, the company knew that to connect with future customers—today's novice drivers—it had to create a character-driven social media presence.
Language-learning platform Duolingo attracted media attention and almost 5 million followers when it created a live-action version of Duo, the company's owl mascot, and gave him his own TikTok account. The tone is irreverent, and the content has little to do with the company's core business, which works well for Gen Z audiences who aren't fond of overt selling techniques.
Harness the Power of Nostalgia
Partly because of Gen Z's experience with unpredictable life events—many saw friends and family lose homes during the 2008 mortgage crisis, for example—this demographic tends to romanticize the pre-social media era and responds to updated versions of past trends.
Beauty TikTok is awash in updated versions of decades-old styles, including a revival of the famous 1970s "Farrah Fawcett flip" hairstyle. As digital natives, members of Gen Z effortlessly scour the web for fashions popularized by previous generations and then make them their own.
Capitalizing on this affinity for nostalgia, French clothing brand Maison Kitsuné made an Instagram post that garnered more than 4,000 likes by alluding to the Gen Z trend of taking awkward family photos with friends and partners at mall photo studios. This fad is a nod to '90s and early 2000s mall culture—when families would visit studios to take photos with ultra-soft light and cartoonish backgrounds.
When I'm designing for a Gen Z audience and need reference material, I look back to previous decades. Old photos, scrapbooks, yearbooks, memorabilia, and other ephemera are treasure troves of visual inspiration.
Evoke Nostalgia With Typography
Typography is one of the most recognizable markers of particular times and places, and it is a simple way to signal the aesthetic of an era. For instance, it's hard not to think of mid-20th century California when looking at designs that use Halau or Palm Canyon Drive, or to conjure up an image of the Old West when you see Clarendon Ornamented.
The logo for the German candy Trolli, one of Gen Z's favorite brands, evokes childhood nostalgia with bubble letters, a typography style that often appears on packaging for children's products. Superstar singer and model Dua Lipa uses the liquid metal font—reminiscent of '90s design and the original Matrix movie—on the cover of her album Future Nostalgia: The Moonlight Edition. And at NZXT, our team capitalized on Gen Z's affinity for the past by creating a Valentine's day social campaign that paired the Atari font with 8-bit graphics to convey the feel of a classic arcade game from the 1980s.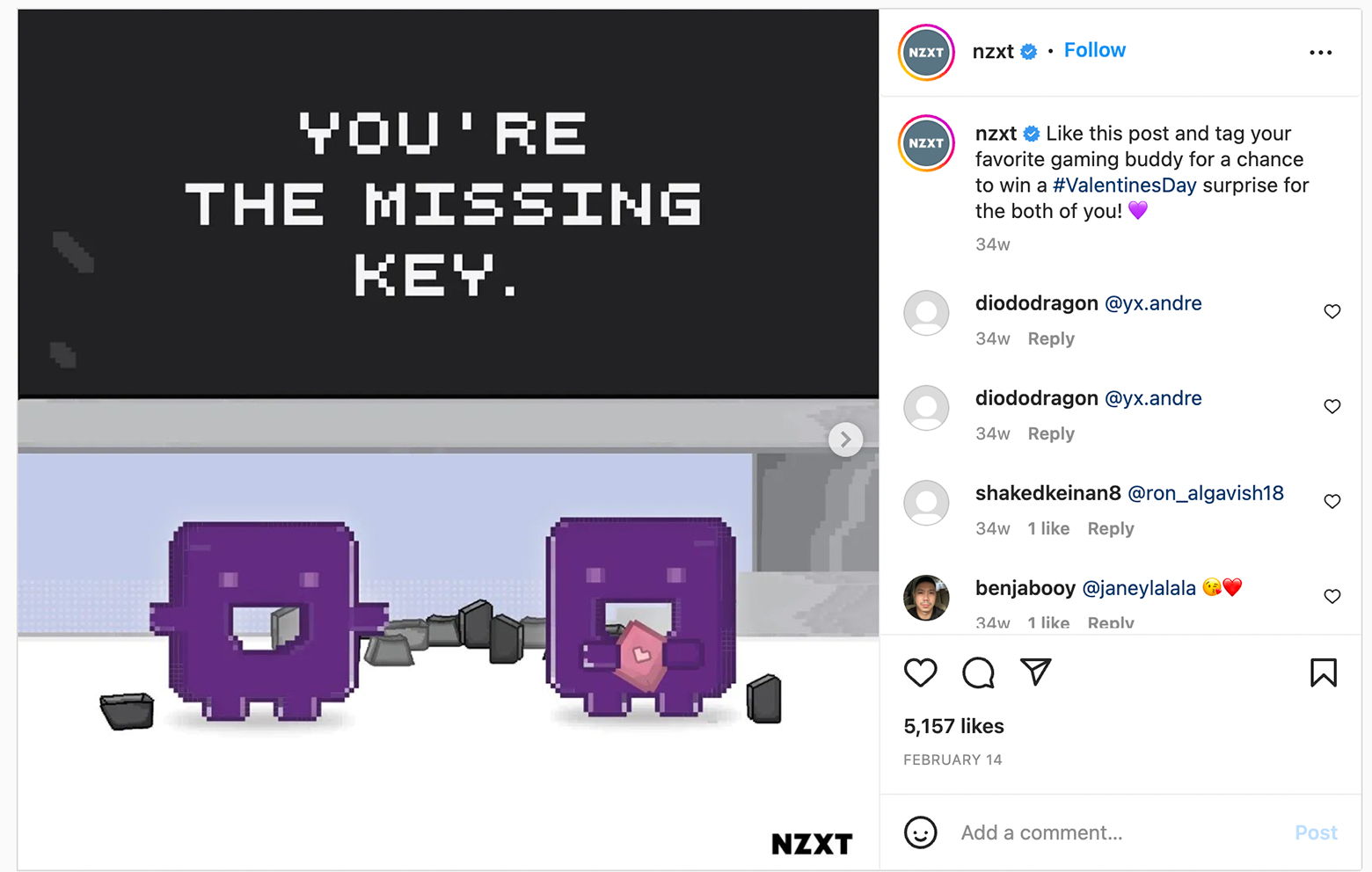 Understand the Role of Influencers in Gen Z Design
By some estimates, Gen Zers average nearly three hours a day on social media, and 83% of Zoomers shop on social, making social media influencers central to any content strategy aimed at this demographic. A recent Morning Consult report finds that 72% of millennials and Gen Zers follow influencers, and 1 in 4 Gen Z women say they most frequently learn about new products from influencers.
Conveying authenticity, one of Gen Z's core values, is critical to the success of social media influencer campaigns—which succeed because they make people feel as though a friend is suggesting a product. If you don't have the budget for a big-name influencer, consider using a micro- or nano-influencer. The use of these influencers—who have fewer followers but higher engagement rates—is increasing. Direct-to-consumer makeup company Glossier and rainboot company Sperry have successfully harnessed the reach of smaller influencers, with Glossier saying it considers every customer an influencer.
Despite the studies showing that Gen Z demands authenticity, companies are beginning to experiment with AI influencers. These social media personas behave like real people with their own styles and tastes but are, in fact, digital avatars controlled by PR or ad agencies. As the metaverse expands, expect designers to be involved in creating sophisticated virtual influencers.
Make Content Customizable and Collaborative
The Gen Z cohort likes its sense of individuality, gravitating toward products and experiences that make them feel unique. Customization can be especially appealing to this demographic. For instance, providing the opportunity to tailor avatars, emojis, and digital stickers is a great way to foster Gen Z engagement.
Snapchat's Bitmoji is one of the most recognizable products in this space, allowing users to create cartoonish avatars of themselves to use on Snapchat and other social media. For one campaign with NZXT, I designed character stickers that customers could use to accessorize their posts on Discord, Slack, and other social media platforms.
At the same time, the Gen Z audience likes to co-create social media experiences, customizing them with other users. Hair care company Function of Beauty created the #ShampooShakeUpChallenge: In the campaign, a video would begin with an influencer shaking a bottle of product to the beat of the music, then transition to the influencer after using the product. The campaign struck a note of authenticity because it featured a shared activity, and nearly 75 million people viewed the hashtag.
Place Values Front and Center
One of the main hallmarks of Gen Z is its focus on activism. Nine out of 10 Gen Z consumers believe that companies have a responsibility to take a stance on environmental and social issues, and more than 70% of this group say they only buy from brands that align with their values.
Fashion brands are responding to this demand by focusing on sustainability and touting these efforts in their digital content. Levi's sustainability push has kept it the favorite denim label among Zoomers in recent years. Though a longtime leader in sustainable manufacturing, the company now features its practices in social media content, with posts highlighting efforts to source alternative fibers and implement greener shipping practices. Outdoor sportswear company Patagonia, a recent addition to the YPulse list of Gen Z's coolest clothing brands, devotes its Instagram to videos of outdoor spaces needing preservation; its tagline since the company's founder transferred ownership of the company to two climate nonprofits is "Earth is now our only shareholder." The company's homepage also focuses on profiles of people committed to preserving the environment.
Authenticity Reigns Supreme
Focusing on nostalgia, storytelling, and social issues is crucial for companies hoping to attract Gen Z customers, but nothing trumps authenticity. This tech-savvy and hyperinformed generation can easily discern insincerity in a brand's visual design and messaging. However, content that demonstrates a genuine awareness of Gen Z's aesthetic preferences and societal outlook can earn a loyal following among this up-and-coming generation of consumers.
Further Reading on the Toptal Design Blog: